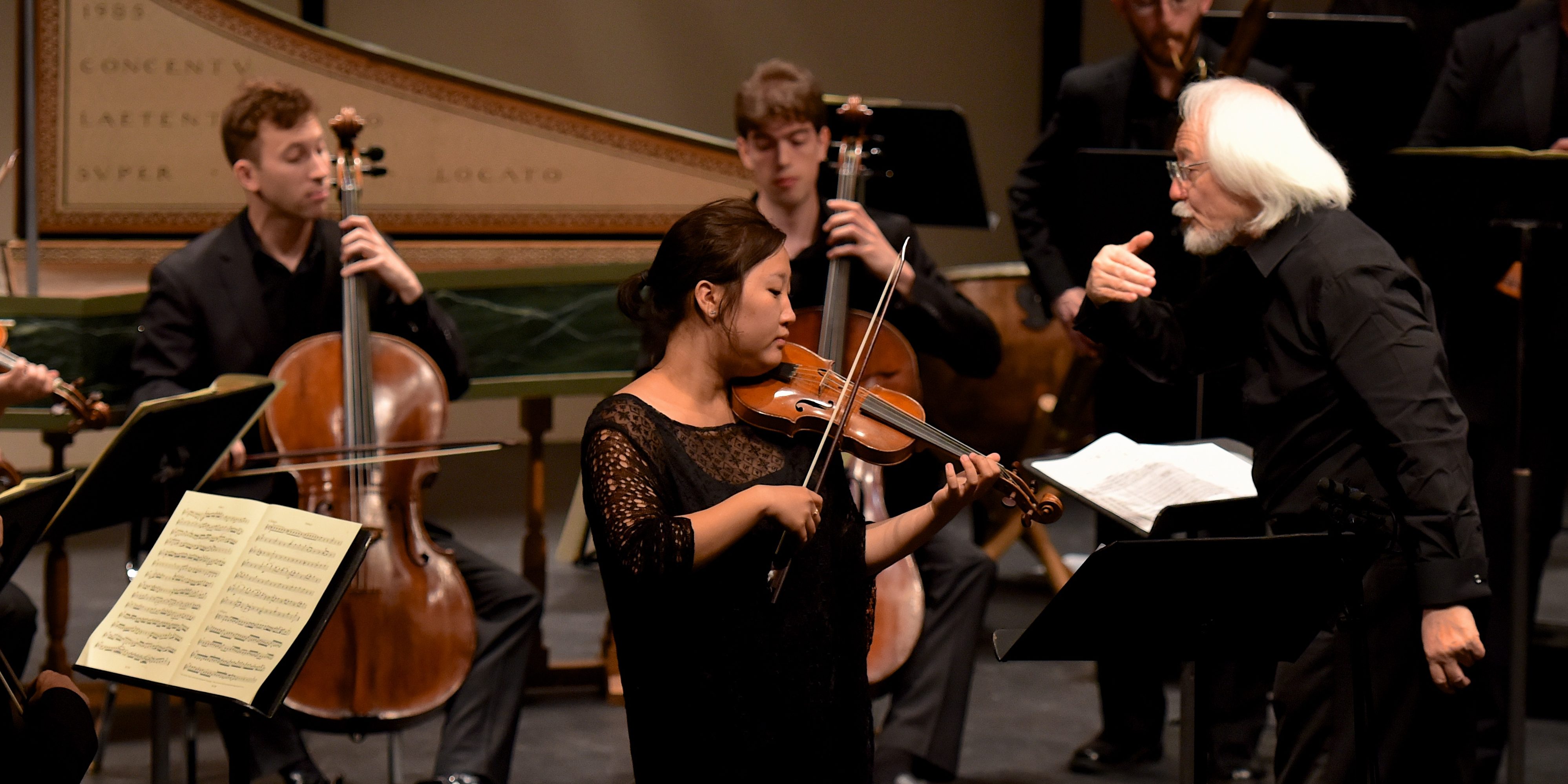 Meet the 2018 Berwick Academy Faculty

Marc Destrubé
Director & Violin
Marc Destrubé enjoys a diverse international career on historical and modern violins, performing as soloist, chamber musician, concertmaster or director/conductor. He is co-concertmaster of the Orchestra of the 18th Century (Amsterdam), first violinist of the Axelrod String Quartet (Smithsonian Institution, Washington, DC) and of the Vancouver quartet Microcosmos, and is a regular guest director and soloist with the Australian Brandenburg Orchestra, Australian Haydn Ensemble and Lyra Baroque. He performs frequently on the Early Music Vancouver series, is Artistic Director of the Pacific Baroque Festival (Victoria) and a member of the Turning Point Ensemble. His recording of Haydn violin concertos (ATMA) has been critically acclaimed, and he has commissioned and premiered numerous works by Canadian composers. A highly-respected teacher, he has been a visiting artist at the Paris, Utrecht and Moscow Conservatories, the Banff Centre, University of Indiana, Case Western University, Australian National University and the Sydney Conservatorium. He is course co-director of the Twin Cities Baroque Instrumental Programme, and has been on the faculty of the Baroque Performance Institute at Oberlin College. marcdestrube.com

Adam LaMotte
Viola & Chamber Music
Adam LaMotte is well-known to audiences throughout the country as a leader of both period and modern ensembles, on violin as well as viola. He has appeared as soloist, concertmaster, and conductor of numerous orchestras throughout the country, including the Northwest Sinfonietta in Seattle, String Orchestra of the Rockies, Astoria Festival Orchestra, Portland Baroque Orchestra, the Maggini String Orchestra, Ars Lyrica, Mercury in Houston.
As part of the baroque ensemble El Mundo Adam was nominated for a 2012 Grammy Award. Mr. LaMotte has been hailed by critics as an "especially compelling" musician with "exceptional talent," whose performances are "energetic and exquisite." As Artistic Director of the Montana Baroque Festival, he brings world-class period instrument performances to the rural Montana community. He has co-founded two critically-acclaimed ensembles, in Portland and in Houston, and continues to produce many chamber music and chamber orchestra performances.

Irish cellist Sarah McMahon spent her childhood in Nairobi and it was there where she began her musical training.
She has spent most of her professional life in London where she enjoys a busy career as principal cello of the Academy of Ancient Music and, back in Ireland, with the Irish Baroque Orchestra and Camerata Kilkenny. She has often appeared as soloist with these ensembles and collaborates regularly with Monica Huggett and Richard Egarr amongst others. She is also regularly invited to play as guest principal cello with the Orchestra of the Age of Enlightenment, Arcangelo, The English Concert, Ensemble Marsyas, Dunedin Consort, Aurora Orchestra and the Scottish Chamber Orchestra.
Sarah is a passionate chamber musician and revels in performing a wide range of musical styles from the earliest baroque repertoire through to contemporary music.
As a founding member of the Callino String Quartet, Sarah spent many years studying with members of the Amadeus Quartet, Rainer Schmidt, Erich Höbarth and Hungarian composer and pedagogue Gyorgy Kurtàg. The Quartet has toured widely, commissioned many new compositions and collaborated with diverse artists such as Ailish Tynan, Kronos Quartet, Edgar Meyer, John Abercrombie and rock band Arcade Fire.
Sarah gratefully acknowledges the support of the Arts Council of Ireland through their Capital Awards scheme. She can be heard on numerous recordings, many of them award winning.

For more than 20 years, Curtis Daily has focused on the historical performance practice of baroque and classical music. He is the principal bassist with Portland Baroque Orchestra and a founding member of Seattle Baroque Orchestra. In addition to regular concert performances with these orchestras he has performed with early music groups and festivals across North America, and has had the privilege of working with many of the most distinguished artists in the early music field.
He was a member of the Oregon Bach Festival orchestra for the Grammy winning recording of Credo by Krzysztof Penderecki on Hannsler Records, and is also heard on recordings for Virgin Classics, Koch, Centaur, and Sub-Pop Records. Live performances have been broadcast on NPR and CBC. He lives in Portland, Oregon.

Wilbert Hazelzet started his career in 1972 in Musica Antiqua Amsterdam (Marie Leonhardt); he has been principal flautist of The Amsterdam Baroque Orchestra(TonKoopman) from 1978. He was member of Musica Antique Köln until 1985; with Ensemble Sonnerie London and Cantus Coelln he performed until 1995.
Apart from his recitals with Jacques Ogg and lutenist Joachim Held, Hazelzet is a frequent guest in The Lyra Baroque Orchestra Minneapolis, Camerata Kilkenny, Passamezzo Antiguo Bilbao and Musica Amphion Netherlands
Erato France, Die Deutsche Grammophon  Gesellschaft – Archiv Hamburg, edel-Classics Berlin, Harmonia Mundi  Germany, Philips, Harlekijn and Globe Holland, Virgin-EMI London and Glossa Music Spain published Hazelzet's recordings.
Hazelzet teaches at the Conservatories of The Hague, Tilburg and Utrecht; his masterclasses take place at the universities of Salamanca, Granada, Seville, London and St.Paul-Minneapolis.

Praised for her "dazzling technique and soulful expressiveness," (Rocky Mountain News), and a musical approach that's "distinctly sensual…pliant, warm, and sweet," (New York Times), Debra Nagy is one of North America's leading performers on the baroque oboe. She plays principal oboe with the American Bach Soloists, Seattle Baroque Orchestra, and Apollo's Fire, and is a regular guest with the Handel & Haydn Society, Boston Early Music Festival, Pacific MusicWorks, among other ensembles. A dedicated chamber musician, Debra is the founder of Les Délices (whose debut recording was named "One of the Top Ten Early Music Discoveries of 2009") and performs late-medieval music as a regular guest with Boston's acclaimed Blue Heron and the Newberry Consort. Following studies at the Oberlin Conservatory, Conservatory of Amsterdam, and Case Western Reserve University, Debra has received many awards for her creative and scholarly pursuits including first-prize in the American Bach Soloists Young Artists Competition, a 2009 Fellowship from the National Endowment for the Humanities, and a 2010 Creative Workforce Fellowship from Cuyahoga Arts & Culture. She has recorded over 30 CDs with repertoire ranging from 1300-1800 on the Chandos, Avie, CPO, Capstone, Bright Angel, Naxos, and ATMA labels, and has had live performances featured on CBC Radio Canada, Klara (Belgium), NPR's Performance Today, WQXR (New York City) and WGBH Boston.
A dedicated and inspiring teacher, Debra serves on the artist faculty of the American Bach Soloists' Summer Academy and has given masterclasses at Juilliard, the Cleveland Institute of Music, San Francisco Conservatory, Cincinnati Conservatory, and University of Washington. When she's not rehearsing, performing, or dreaming up new projects, Debra can be found cooking up a storm in her kitchen or commuting by bike from her home in Cleveland's historic Ohio City neighborhood.

For the past thirty years Eric Hoeprich has specialized in performing on historical clarinets, in music from the Baroque to the late Romantic. Educated at Harvard University and the Royal Conservatory of Music in The Hague, he is currently on the faculties of the Paris Conservatoire National Supérieur de Musique,the Royal Conservatory of Music in The Hague, the Royal Academy of Music and Indiana University, Bloomington. A founding member of Frans Brüggen's Orchestra of the 18th Century (1982), Hoeprich has performed frequently as a soloist with this orchestra, as well as many of the major early music ensembles and several modern orchestras. In the 1980s, he founded two wind ensembles, NACHTMUSIQUE and the Stadler Trio (three basset horns), which have toured around the world. His dozens of recordings are available on labels such as Deutsche Grammaphon, Philips, EMI, SONY, Harmonia Mundi, Glossa and Decca. Collaboration with string quartets, chamber ensembles and vocal soloists also feature regularly on his calendar. Recent releases include clarinet quintets (Mozart and Brahms) with the London Haydn Quartet  (Glossa), the three clarinet concertos by Bernhard Crusell with Kölner Akademie (ARS Production) and "Sei Sinfonia" by J.C. Bach with Nachtmusique (Glossa).
An interest in historical clarinets has led to the publication of numerous articles, contributions to the New Grove Dictionary and a general text on the clarinet published by Yale University Press (The Clarinet, 2008). He recently prepared the entry for "Clarinet" for Oxford Bibliographies Online. Hoeprich has amassed a collection of more than a hundred antique clarinets, which has also led to restoration and construction of replicas of period originals; he maintains a workshop for instrument making at his home near London.

Marc Vallon is the Professor of Music, Bassoon, at the Mead Witter School of Music at the University of Wisconsin-Madison, a position he has held since 2004. A native of France, he received his musical education on the French basson at the Paris Conservatoire National Supérieur with Maurice Allard. "Enfant prodige", he began playing professionally at the age of 17, and had the privilege of performing with the top Parisian orchestras under legendary conductors such as Sergiu Celibidache, Leonard Bernstein, Seiji Ozawa, and Karl Boehm. After switching to the German bassoon in the early 80's, his interests lead him to work with contemporary music groups that culminated in the 1980s in a 5-year period of collaboration with Pierre Boulez's Ensemble Intercontemporain.
Marc's early music career began in 1982 when he joined the Amsterdam Baroque Orchestra, where he was principal bassoon for 20 years. Marc was also principal bassoon of Philippe Herrewheghe's "Orchestre des Champs Elysées" for 12 years and has participated in concerts worldwide with early music leading ensembles like Tafelmusik, La Petite Bande, Les Arts Florissants  and Concerto Köln. His experience on period instruments ranges from Monteverdi's "Vespers" (1610) to Debussy's "Afternoon of a Fawn" (1894).
Marc's current performing activities include his participation to the Wingra Quintet, ensemble in residence at the UW-Madison School of Music, work with the Wisconsin Chamber Orchestra and recitals mostly dedicated to new music and commissions to composers. On early bassoons, he performs mostly with Apollo's Fire in Cleveland and Opera Lafayette in DC.

Andrew Clark
Natural Horn
After 24 years working as a musician based in London, England, Andrew Clark moved to British Columbia in 2010. So far in his career, he has performed in 45 countries, worked with more than 60 professional orchestras and ensembles from 10 different nations, and has 24 years of experience teaching the horn at university level, including many years as a member of the brass faculty at both the Guildhall School of Music and Drama, and the Royal Academy of Music in London. As a soloist he has appeared alongside musical directors such as Sir Charles Mackerras, Franz Bruggen, Robin Ticciati,
Trevor Pinnock and Monica Huggett, and has also recorded as soloist for EMI, Hyperion, Archiv and Linn. Twice he has been an invited solo guest artist at International Horn Society symposiums as well as at numerous other Horn Festivals around the world.
His interest in the horn and its music has taken him in many different directions. As a  world renowned performer on historical horns, he has played every piece by Bach that includes a horn (most of which are recorded with Ton Koopman and the Amsterdam Baroque Orchestra); performed live on BBC radio 3 the highest notes written for the instrument, by Haydn (in the concert aria Pieta di Me); and performed and recorded (twice) all of Brahms' symphonies on a Vienna horn. As a symphonic horn player he has worked with all of London's top orchestras and is delighted to have had the opportunity to perform each individual horn part in every Beethoven symphony. For 16 seasons he played at Glyndebourne Opera House, and has taken part in a large number of opera recordings, including (on three separate occasions) the obbligato horn aria from Handel's Giulio Cesare. As a soloist in later repertoire, he has performed Britten's Serenade for Tenor, Horn and Strings, recorded the premiere of the Sonata da Caccia by Thomas Adès and most recently, performed and recorded the newly composed Concertino for
Horn and String Orchestra by Stephen Chatman.
Since 2002, Andrew has trained in brass instrument manufacture and set up his own specialty workshop for custom building and repair. To date he has built more than 20 horns and trumpets, many  with unique design features. Many of his instruments are used by leading players in some of the worlds' finest orchestras.
Currently he is the horn instructor at the University of Victoria in British Columbia and principal horn player in the Vancouver Island Symphony Orchestra.

One of the most prominent modern masters of the harpsichord and fortepiano, Jacques Ogg performs worldwide as a soloist and continuo player. He works regularly with baroque orchestras around the world, most recently in Brazil, South Korea and Spain, and also performs regularly with flautist Wilbert Hazelzet and cellist Jaap ter Linden.
Highly sought after as a pedagogue, Jacques Ogg is a harpsichord professor at the Royal Conservatoire of The Hague, one of the world's foremost institutes for early music. He directs the Baroque Instrumental Program – an intensive summer music course in the Twin Cities – and has been the artistic director of Lyra Baroque Orchestra since 2000. His discography includes more than 60 recordings with labels such as Philips, Sony, EMI, Glossa and Globe. Fono Forum, Germany's largest music magazine, named Mr. Ogg's CD of Bach's Goldberg Variations the finest recording of this work presently available.

Simon Martyn-Ellis began playing the lute after finding the classical guitar repertoire too restrictive for ensemble performance: continuo accompaniment remains a mainstay of his activities. His particular interests are in vocal collaborations, either in opera or intimate recitals, baroque guitar repertoire, and finding the groove in Early Music. But really, he just has a great time making music with people.
After undergraduate studies in his homeland Australia, Simon moved to Germany in 2002 to complete postgraduate study with Rolf Lislevand at the Trossingen Hochschule für Musik. During his 11 year stay in Germany, Simon appeared frequently throughout Europe and the US in leading performance venues and theaters with the Akademie für Alte Musik Berlin, Concerto Köln, Salzburger Landestheater, Neue Düsseldorfer Hofkapelle, and the Freiburger Barockorchester, as well as in a variety of chamber music performances.
In Australia, he has appeared in numerous festivals including the Melbourne and Adelaide International Festivals, the Peninsula Summer Music Festival, as well as for Pinchgut Opera, The Australian Brandenburg Orchestra, Opera Australia, the Adelaide and Melbourne symphony orchestras, and chamber ensembles such as the Elysium Ensemble, Latitude 37 and Ironwood.
Now based in the US, Simon has appeared as a founding member with ACRONYM and Duo Corbetta, as soloist and continuo with Apollo's Fire and Clarion Society NYC, at the Oregon Bach Festival and with Opera Theatre of St Louis, Bach Collegium of Sand Diego, Opera Columbus and Helicon in New York City. He is teacher of lute and related instruments at the Cleveland Institute of Music.
Simon can be heard and seen on CD recordings and DVD releases from the Harmonia Mundi, Deutsche Grammophon, Virgin Classics, BIS, Avie, ABC Classics, Vexations840 and Move labels amongst others. He has been recorded for radio and television broadcast countless times in over 12 countries worldwide.